DON'T FORGET THE PUBLISHED COMMENTS AT THE BOTTOM OF THE PAGE 
Bad Doctor Refuses To Treat Fibromyalgia



Bad doctor?
You've been told that fibromyalgia doesn't exist, it's in your head, it's not a true disease...
The pain management clinic told you they don't treat fibromyalgia...
You've even been told that it's not treatable...
All this is unacceptable! The WHO (World Health Organization) has recognized fibromyalgia.
The WHO has clearly stated that pain is an emergency and must be treated.

Do not accept the unacceptable!
Shame them!
How any of the pain managements clinics can say that they do not treat fibromyalgia disease? How would anyone call a doctor that has sworn the Hippocrates Oath and refuses to recognize 2-3% of the population suffering from FMS but a bad physician!

Tell us your story. You're not alone. You need to be heard. We all need your help by getting your stories so we can put the pressure on.

Spit it out!
You want to make a comment? Go for it!
---
The main question that remains: How do I recognize a bad doctor?


Sometimes bad doctors have bad reputation. But be careful, one or two bad stories don't make it a judgement. So, you tend to be left on your own to judge it. Let's have a look at some pointers.
If a doctor tells you that fibromyalgia does not exist: run away!
Because not only this is false but also it indicates no willingness on his or her part to learn about it. They will die stupid and ignorant. 
Max Planck who discovered quantum mechanics and won a Nobel Prize used to be mocked by many of his peers for what was a theory at the time. He used to say that happily people die and are replaced by younger ones whose minds are open to new subjects. Luckily, this is the case because our bodies would not function if it was not for quantum mechanics.
Doctors may not be straight forward in expressing their doubts, but you will smell a fish through their body's language. Please, believe your gut feelings and run away. 
Don't try to convince yourself because there is another important reason. If you are not trusty of your doctor no treatment will work! This is because any treatment works for at least 40% due to a placebo effect. 
This has been well shown. If the same treatment is administered by a doctor you have trust in, the chance that it works is much higher. So, if you have the slightest doubt about your doctor, run away. Even if he is good, his treatments with you will fail. No trust, no success!
You want to make a comment? Go for it!
---
A good doctor listen to the patient because that's the way he gets the diagnosis!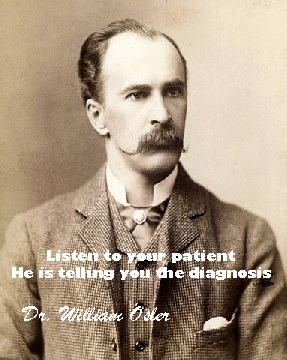 Finally, I must admit that I have left out the problem of bad doctors who have sold their soul to Big Pharma.


Those guys could very well not believe in fibromyalgia but having sold out to Big Pharma, they could give you a bad treatment to obey their master. Not only you would get no benefit but get all the side-effects.
There is no easy solution out of this. All you can do is finding out if your doctor has had any payment from Big Pharma. Look on the net, ask the people working with him or around him, ask your fibromyalgia support group. Ask the doctor's secretary if she knows a fibromyalgia support group.
Get a free test on my website and ask me to prepare you to go back to your doctor.
And learn about your disease with my eBooks.

You want to make a comment? Go for it!
Bring knowledge to any bad doctor.

You've been refused recognition or treatment for your FMS?
You've felt untrusted or abandoned? Share it!
What Other Visitors Have Said
Click below to see contributions from other visitors to this page...