Famous fibromyalgia people: from Job to the Bold and Beautiful


Job

Famous fibromyalgia people starts with an unexpected famous one: Job
Job, as reported by the Book of Job in the Hebrew Bible was imposed sufferings by God and in many parts of the book he may be describing pains that could relate to fibromyalgia.
In Chapter VII, Verses 3 and 4: " ..months of suffering and nights of pains...when I lie in bed at night I say when will I rise and during the day I hope for the night.."
In Chapter XXX, verses 16 and 17: "...days of pains are my life and at night my bones are pierced and the pains that make me suffer do not let me any rest.."
Many other verses describe pains that have made some think that fibromyalgia was the basis for the sufferings of Job


Florence Nightingale

Florence Nightingale was probably the most famous non-royal person of the Victorian period. She helped develop modern nursing.
By 1896, Florence Nightingale was bedridden. She may have had what is now known as chronic fatigue syndrome and her birthday (12 May 1820) is now celebrated as International CFS and Fibromyalgia Awareness Day. Of all the famous fibromyalgia people we have chosen to title our newsletter after her.
As usual with fibromyalgia the amount of co-morbidities (other diseases) is high and may confuse the diagnosis. The fact that she developed her fibromyalgia after an apparent infection trigger made it called chronic fatigue syndrome and the infection itself is being accused of the symptoms. A recent biography cites brucellosis and associated spondylitis.


Charles Darwin
Charles Darwin was a nineteenth century English naturalist famous for his theory on natural selection of the fittest.
When he came back to England after travels to South America and Pacific Islands, he started suffering from what may well be fibromyalgia. Fatigue, pains, abdominal troubles, headaches, insomnia, anxiety, dermal problems used to flare up at times of stress such as attending meetings trying to defend his theory of evolution.
Attempts at diagnosis have suggested Chagas disease, psychosomatic disease, intoxication. He may well have suffered from fibromyalgia.
As usual, we carry on forgetting that males can suffer from fibromyalgia and that "unexplained" diseases are not all psychological! Another famous fibromyalgia people.


Frida Kahlo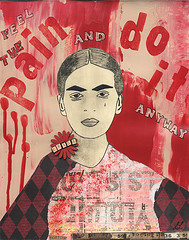 Frida Kahlo, a Mexican painter, may have suffered from fibromyalgia following a bus accident. What is sure is that she suffered from chronic pain that she expressed through her paintings with forceful colors and expressionism. Many of her works inspired artists with the pain symbolism that was so vivid. I was very lucky to get authorization to show you a superb painting by Lorri Lennox, www.auslorri.blogspot.com, who holds copyright. She expresses Frida's life so well. Undergoing 35 surgeries following her accident, Frida kept on producing great works and living a tumultuous life to the extreme despite her chronic pain. Few people could better display fortitude under duress from fibromyalgia.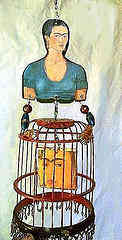 Laurie Dorell, www.etsy.com/shop/moonwild , expresses so well this technique used by many chronic pain sufferers: instead of feeling in the cage of pain, they are able to visualize themselves as being outside the cage, watching that part of them in pain.
Laurie adds power to Frida by having her holding that cage! The cage of fibromyalgia pain.
Fibromyagia people can teach us good techniques and we are lucky when supeb artists are able to articulate it.






Susan Flannery
Another famous fibromyalgia people!
The beautiful Susan Flannery (Stephanie Forrester in the Bold and Beautiful soap opera) may be suffering from fibromyalgia and has had leave from her filming for flare ups.
She has managed to keep up her work up to now but is apparently close to retirement at an early age.


Andrea Cooper
Andrea Cooper, 52, has lived with fibromyalgia and chronic neck pain for more than 30 years.
When pain forced her to retire from her job as a graphic designer, she began volunteering for the American Pain Foundation.
In this video, 'What Is Fibromyalgia?', she explains what it feels like to have fibromyalgia. Have a look at this link

If you have another example of famous fibromyalgia people contact us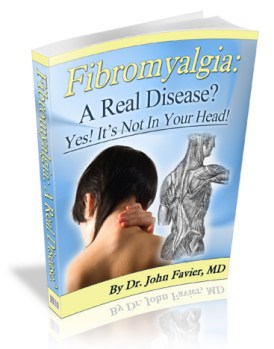 To understand why you suffer from fibromyalgia, click on the book!